At the annual meeting for Interfaith Community Services, we found that one of our graduates was in their "30 Stories for 30 Years" feature! Earl starting training in January 2012 at Oceanside and got his class in March of the same year. He promptly started working for Schneider in April.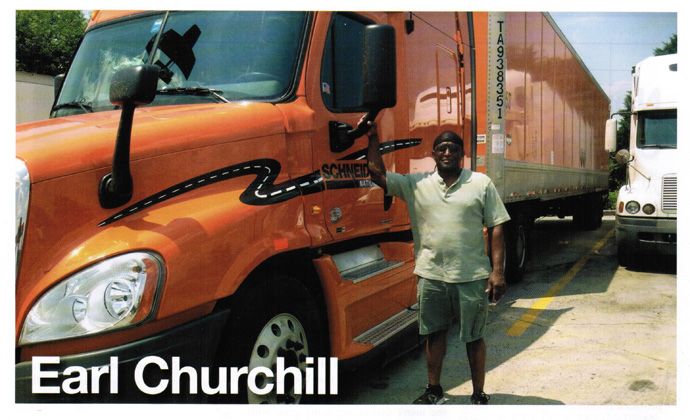 Here is the article:
The road looks a lot smoother for Earl Churchill these days than it did just a year ago.

Churchill, 52, is enjoying life as a long-haul trucker for Schneider National, teaming with a co-driver on multiweek trips. They pick up trailers at one location and drive them to others.

That's a much better situation than he had last July, when he was referred to Interfaith Community Services by the Veterans Administration. Churchill, a self-employed carpenter and former Marine rifleman, was struggling to find work because of the weak economy.

Basically, he was homeless and jobless, Churchill said, although friends gave him places to stay to keep him off the streets.

"I was sleeping on a couch. I knew I didn't want to do that. My friends needed privacy," he said. "A friend suggested I go to the VA for assistance."

That suggestion led Churchill to Merle's Place, a transitional housing element of Interfaith's veterans services program. While living in the shelter for veterans at the ICS Escondido office, Churchill, received career advice, life-skills instruction and the chance to use the computer lab, where he got assistance in preparing resumes.

With help from veterans advocate Oscar Cannon, Churchill was accepted into the truck-driver program at California Career School in Oceanside. He excelled in the six-week program, getting good grades and enjoying the work.

"He's more of a go-getter. He never gave up," said Cannon. "He was always talking to me about going into this program and what he had to do to get into that program. He has a real positive attitude."

Churchill received job offers before he completed the trucking program. After careful study, he chose to sign on with Schneider, with whom he started working in April, the same month he left Merle's Place.

His first assignment put him on the road for 24 days. Another 21-day journey followed in mid-June.

"It's rewarding, and I do like it," said Churchill, who stays with a friend in Vista when he's no on the road. He's looking toward finding his own place once he determines how much he'll be in the area.

Churchill says the value of assistance he got at Merle's Place and through Interfaith was "priceless."

"I know I'm a hard worker, and I didn't think I'd be homeless long. Without the program, I wouldn't have had stability; I wouldn't have had a roof over my head," he said. "Without Interfaith and their assistance, I would not be where I am now, which is a lot closer to being stable and having a place of my own."
We want to congratulate Earl for making in onto to this incredible feature. With his hard work and positive attitude, we're sure he'll get on just fine. Once again, we wish him well in all of his future endeavors!