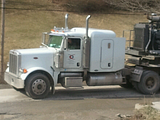 Congratualtions to our recent graduate, Heath Sparks, on obtaining his CDL!  He took a moment of his time to share with us a little about his experience at California Career School.
"Working together to learn how to accomplish all tasks. Very impressed with knowledge of instructors…", is what stands out most to Heath in regards to our training.
We asked Heath, what he felt was most surprising in terms of his training experience at CCS? He replied, "hands-on training." Our instructors work quite closely with each student to make sure that they are receiving any type of support they need.
He also offered some advise to any future students. Heath shared, "Most jobs are requesting CDL drivers and this will definitely help. Ward [our 29 Palms instructor] had set up and taken us to job fairs. Deeply appreciated."
Heath was able to meet one-on-one with Integrated Production Services at a presentation set up by Calfironia Career School, which in turn transpired into a job for him.
IPS has created a unique Marine Corps Training Program soley for recently seperated, motivated, and qualified former Marines (ALL MOS'S) interested in a career in the Oil and Gas Industry to become Drivers and Equipment Operators.
Our employers, placement coordinator, and instructors all partner together to ensure we present our students with the best employment opportunities possible. IPS in turn works with California Career School to supply positions  for our transitioning military students. Consequently, Heath was able to take advantage of this opportunity.
We would again like to congratulate Heath and wish him all the best for the future!