"After attending [an]other trucking school and having a horrible experience, it's easy to notice a great school like CCS. At CCS, we're training with a tractor trailer combination, not a tractor flatbed. I chose CCS for the hands on training, placement, professionalism, and great equipment," shared John Tu, our Anaheim trucking graduate.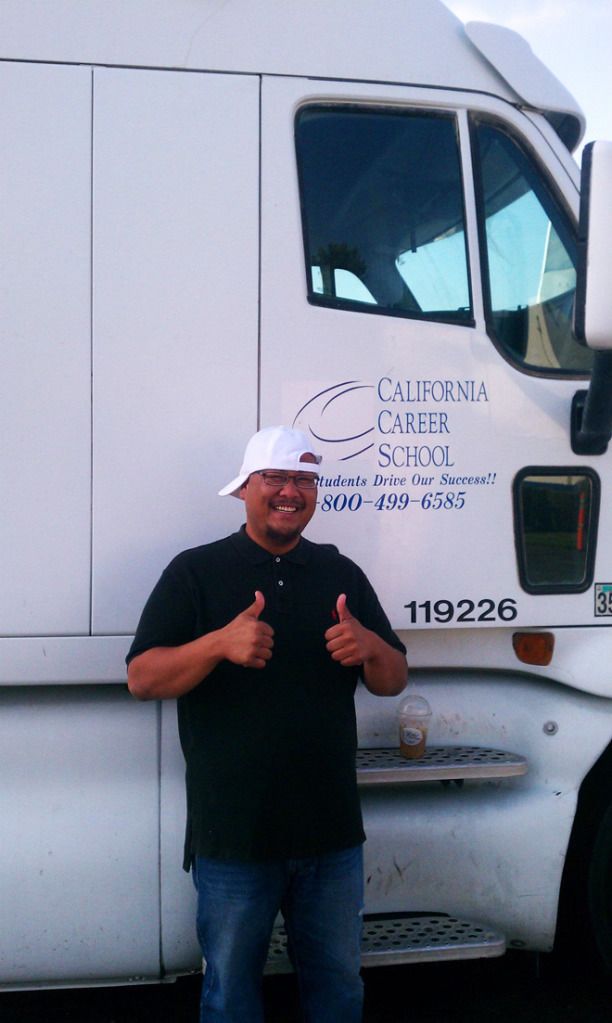 "After being unemployed for a while the only challenge I was facing was getting the funding for training– waited almost 2 years but finally received my funding from WIA (Workforce Investment Act). Now with this new career training, I'm hoping to be able to provide for my family and have a great future," said John.
He listed many moments that stood out to him during his time here: "After failing the DMV skill test. Doing 6 pull ups for the alley dock. Understanding that your nervousness can affect your driving ability. I came back to the DMV the next day and knocked it out. 1 point on skills and 5 points on road." At the DMV, the lower score you get, the better. Points add up with each mistake.
John's difficulty was, "not having any experience with a manual transmission. I was nervous and confused, but all the practice and training has improved my driving ability."
"[… I] didn't realize I would be making good friends during my training. All my classmates were positive and helpful. From admission all the way to placement, every department plays a key role to the student's success," he went on. "Everyone's professional, friendly, polite, and the family atmosphere is great. From Donnavin's asking 'where you at? Let's go work on it,' from Robert's 'you see that angle yet?' to Adam's 'you still missing something?'– 'Mr. No Abrasions, Bubbles or Cuts.' The service that CCS at Anaheim has provided has been the most valuable. […] You'll get what you've put in. If you want a down to earth training and correct training for your new career, this is the school. Don't go to another school […] training you in a 24 foot flatbed. I had that training, it's not realistic."
We wanted to congratulate John again for successfully getting his license. His positive attitude and willingness to help his peers is always welcome here. We wish him well in his future endeavors!