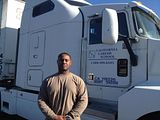 Tremayne Dale is a recent graduate of CCS who was able to land a job at Integrated Production Services (IPS) prior to even completing his training. He took a moment to share his experience at CCS with us.  
Tremayne relayed he chose to train at California Career School because of the, "Passing rate at DMV, job placement, and overall structure of the school. Attention to detail and team concept above any school. Instructions were laid out perfectly."
"Confidence and trust the instructors have in their students," he shared, was what stood out to him the most during his training. On his instructor's teaching styles, he denotes they were, "Knowledgeable, passionate, and consistent."
Tremayne details that what he was most surprised about is the placement assistance that was offered to him. He says, "…I was just expecting to get my CDL not the assistance for job placement, which was a great added bonus!" Our placement coordinator worked closely with Tremayne to help him attain a position at IPS and go to work after completing the program.
We would like to congratulate Tremayne on getting his CDL and for getting a position at IPS. We wish him nothing but the best for the future!